Wednesday 11 October 2022
STATE TEACHING AWARD WINNERS ANNOUNCED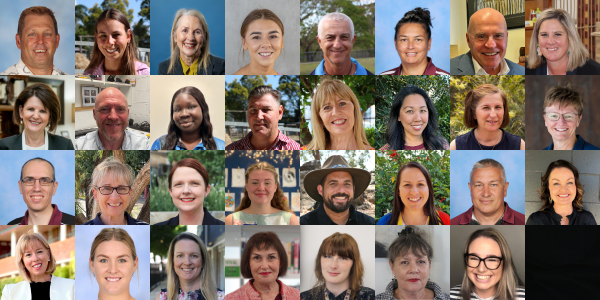 31 Queensland teachers have been recognised with prestigious TEACHX Awards.
The awards are in their fifteenth year and recognise the depth and breadth of teacher achievement across the public and private education sectors and in early childhood settings in Queensland.
Recipients will receive their awards at a Brisbane ceremony on Thursday, 26th October.
31 of Queensland's most inspirational registered teachers have today been announced as recipients of prestigious state teaching awards.
This year's recipients include teachers who are reviving and embedding Indigenous languages, inspiring young women to pursue agricultural pathways, bringing video game technologies and eSports into their classrooms, all while ensuring every student in their school community feels like they belong.
The Queensland College of Teachers' (QCT) TEACHX Awards have been dedicated to recognising the outstanding excellence of Queensland's teachers in state and non-state schools and early childhood settings for over a decade.
For the first time this year, a recipient has been awarded under a new special category noting the exemplary efforts of tertiary educators to the field of initial teacher education.
Adjunct Professor Bruce Burnett is the inaugural winner of the Emeritus Professor Nola Alloway Excellence in Teacher Education Award, recognised for his groundbreaking program helping supply high achieving graduate teachers to disadvantaged schools.
QCT Board Chair, Professor Emeritus Wendy Patton, said, "These teachers are a reflection of the high standards of teaching happening throughout the state."
"During a time when teaching is greatly in focus, it's important we collectively shine light on the members of the profession who are exemplary in their practice, not only at this statewide level, but at a community level too."
Recipients will receive their awards at a ceremony in Brisbane on Thursday the 26th of October, the eve of World Teacher's Day celebrations in Queensland.
The TEACHX Awards are proudly sponsored by the Queensland Department of Education, TUH Health Fund, RemServ Lease, Griffith University and Schoolzine.
Excellence in Teacher Education
Bruce Burnett – Australian Catholic University (ACU)
Excellence in Beginning to Teach
Amy Bentley – Beaudesert State High School
Heather Crothers – Woree State High School
Eliza Gordon – Townsville Community Learning Centre - A State Special School
Elizabeth McNulty – Bellbird Park State Secondary College
Chelsea Robers – Ayr State School
Excellence in Teaching
Diana Backhouse – Nursery Road State Special School
Tara Barron – Rochedale State School
Cailtin Crowe – St George State High School
Gregory Jessep – Marsden State High School
Rebecca Samios – Barkly Highway State School
Innovation in Teaching
Anthony Brieschke – Beaudesert State High School
Bridgette Bird – Kimberley Park State School
Brendan Growden – Marsden State High School
Simon Roper – Hervey Bay State High School
Helen Weston – Loreto College Coorparoo
Excellent Leadership in Teaching and Learning
Allison Elcoate – Trinity College Beenleigh
Elena Finlay – Leichhardt State School
Elizabeth Foster – Wavell State High School
Lissa Gyte – Loreto College Coorparoo
Preston Parter – Nullu Badi Ngudyubay Academy (formerly Eidsvold State School)
Outstanding Contribution to School Community
Nyanyiik (Angelina) Chol – Mabel Park State High School
Leonard Hopkinson – Edens Landing State School
Michael Platt – Elanora State High School
Sheree Ruri – Marsden State High School
Judith Terkelsen – Goodstart Early Learning Pialba
Outstanding Contribution to Teaching
Amanda Bopf – Mount Alvernia College
Karen Farrow – Emmanuel College (Carrara)
Melissa Kempson – Kingaroy State High School
Dale Morrow – St Rita's College
Natalie Wells – Heights College Rockhampton