QBECT Group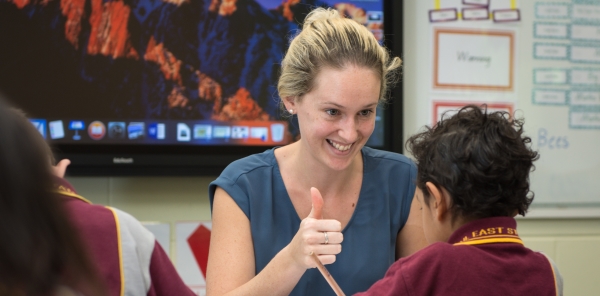 Are you a beginning or preservice teacher working or studying in Queensland?
Nominations close Friday 5 October
The QCT are seeking preservice teachers in their final year of study and teachers in the first five years of their career to represent the latest generation of high-quality educators who are transforming the lives of Queensland school students.
Our newest teachers are professionals who are entering the classroom with a strong set of knowledge and skills, readiness to learn and a passion for the students they teach. However, like any profession, there are also unique challenges associated with beginning a teaching career.
For these reasons and more, the Queensland College of Teachers recognises the need to engage with Queensland's beginning and early career teachers through the College's new Queensland Beginning and Early Career Teachers (QBECT) reference group.
What is QBECT?
QBECT is a professional forum for discussion about how the QCT can better support teachers in the early stages of their career. Through sharing ideas, initiatives and research, the group will play an important role in influencing the QCT's engagement with the profession.
Who is on QBECT?
QBECT will consist of 10 teachers in the early stages of their career (pre-service teachers in the final two years of their initial teacher education and teachers in the first five years of their teaching career). We are looking for teachers of all ages, locations, school sectors and mode of initial teacher education.
What does it involve?
Reference group meetings at the QCT Office in Toowong each term where a range of issues related to QCT functions and the profession more broadly will be critically discussed
Professional engagement through a dedicated LinkedIn group
Commitment to enhancing the professional standing of the profession
Are you?
Either a pre-service teacher in the final year of your initial teacher education or graduate teacher who is in the first five years of their teaching career?
A passionate educator who is committed to having a positive influence on the profession?
Ready to share your experiences?
How do I apply?
Film a short (2-5 minute) video of yourself explaining why you would be an appropriate candidate. Be sure to include:

Background – Tell us a little about your teaching career so far
Why do you want to become a member of the QBECT Group?
What will you bring to QBECT?
What are you hoping to gain from QBECT?
Identify a challenge presently faced by the profession. Tell us what you think may be a potential solution and explain why.

Provide a short, written reference from your current Principal/Deputy Principal, or if you are a pre-service teacher, from a relevant education professor.
Send the above along with your CV to qbect@qct.edu.au before Friday 5 October 2018.