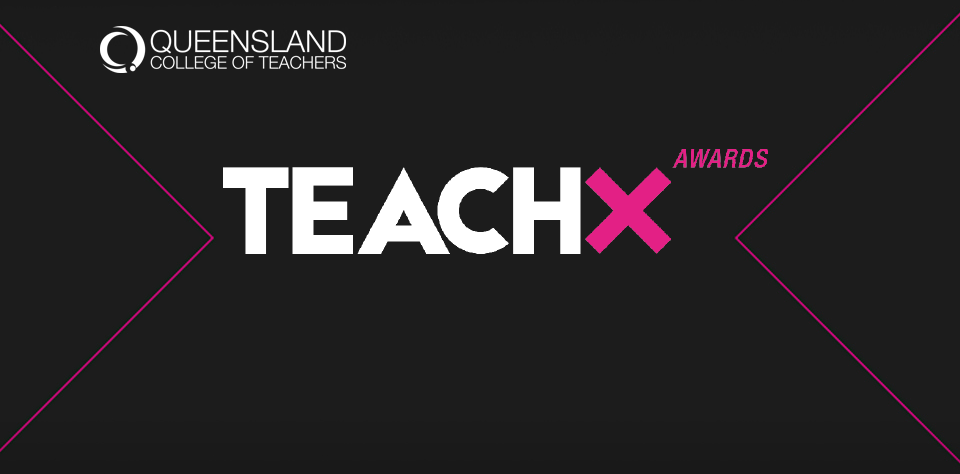 QCT TEACHX Awards
The TEACHX Awards celebrate the outstanding contributions of teachers in Queensland.
Every year, teachers from across the sectors and early childhood centres are nominated to share their stories and inspire colleagues.
The QCT is proud to give voice to these stories and to shine a spotlight on the extraordinary work being done by these remarkable individuals within the profession.
Commencing in 2009, these awards exemplify the significant contribution to schools and early childhood communities across Queensland, attracting more than 2,000 nominations of registered teachers who have achieved exceptional outcomes.
To be nominated for a TeachX award, is an achievement in itself. Winning a TeachX category signifies teaching quality, dedication and is a mark of distinction.
Nominations open in May.
For further information about the event, please email .
2020 QCT TEACHX Awards
View the recording and see the winners.
Read the stories of the 2020 finalists and shortlisted nominees here: https://www.stories.qct.edu.au/.
Download a copy of the 2020 TEACHX Awards program here.
Award Categories
Beginning to Teach
The TUH Health Fund Dr Roger Hunter OAM Excellence in Beginning to Teach Award provides recognition for inspirational teachers with up to four years' experience.
Teaching
The Teachers Mutual Bank Dr Alan Druery OAM Excellence in Teaching Award provides recognition for inspirational Queensland teachers.
Leadership in Teaching and Learning
The Teachers Mutual Bank Dr John Dwyer Excellent Leadership in Teaching and Learning Award was introduced in 2012 to recognise classroom teachers or school administrators who have taken a leading role in enhancing teaching and learning in their school.
Contribution to Teaching
The Courier-Mail Professor Betty Watts OBE Memorial Award for an Outstanding Contribution to Teaching was introduced in 2011 to recognise teachers and school administrators with an outstanding history of service.
Contribution to School Community
The QSuper Dr Joe McCorley OAM Outstanding Contribution to School Community Award was introduced in 2018 to provide recognition for inspirational teachers who are the heart of the school community.
Innovation in Teaching
The Schoolzine Merline Muldoon Innovation in Teaching Award was introduced in 2019 to provide recognition for the ground-breaking work of teachers and school leaders in schools and early learning centres across Queensland.